Referrals
Irc Channel info
Come Join Us
Torrent's details
[ReQ] Misery Index - Discography [2001 - 2010]
[ReQ] Misery Index - Discography [2001 - 2010]
012405155adbb8d568aebb9febc9da42ee04878e
Misery Index

Biography

We are Misery Index, based out of Baltimore, Maryland, USA, and featuring vocalist and bassist Jason Netherton, guitarist Sparky Voyles, drummer Adam Jarvis, and guitarist/vocalist Mark Kloeppel
The band was born in the spring of 2001, by Vocalist/bassist Jason Netherton along with Vocalist/guitarist Mike Harrison as a studio project, with drums performed by drummer Kevin Talley. "Overthrow," their debut CD-demo was unleashed in September of 2001 on the band's own Anarchos Records, where it quickly drew praise and interest from underground circles with its five song blast-thrash attack that met all expectations, and then some. The CD was subsequently released in 2002 in Japan on Howling Bull/Ritual Records, and in Europe on Fadeless Records. A limited edition vinyl put out on Goodlife Recordings soon followed.
The band was then shifted to a full time project with the addition of Sparky Voyles on guitar. Subsequently, the band's second release was a split EP with Pittsburgh's Commit Suicide on Willowtip records. This cd featured two new songs plus a cover of Disrupt, and came out in the summer of 2002.
Following the recording of their second EP in March of 2002, Mike Harrison and Kevin Talley left the band to pursue other projects, and with the addition of Matt Byers on drums, Misery Index embarked on their first US tour in the summer of 2002 with Canadian's Kataklysm.
Following this, 2003 saw the release of a split ep with Arizona's Structure of Lies, and the recording of Misery Index's debut album for Nuclear Blast, entitled "Retaliate". With the addition of Bruce Greig on second guitar, Misery Index toured extensively to promote the debut album, "Retaliate," which was released on August 26, 2003.
Subsequently, in 2004 the band embarked on several US and European tours to support "Retaliate", along with recording a video for "The Great Depression" and releasing the bands first DVD, which features a full live set from Greece, on their own Anarchos Records label imprint.
With the addition of Adam Jarvis on drums in August of 2004, the band performed sets at the Wacken, Brutal Assault, and Party San festivals, which followed the recording of the "Dissent" EP in the summer of 2004. "Dissent" represented a new birth for Misery Index, further refining the sounds of 'Retaliate'. Misery Index toured throughout the winter of 04 and the spring of 05 extensively to support the release, including runs with Napalm Death, Suffocation, Behemoth, Neuraxis, Rotten Sound, Magrudergrind, and an appearance at Germany's Up From The Ground festival. Additionally, joining the band on second guitar and vocals was Mark Kloeppel, who rounded out the sound of the band in fine form when he joined in February of 2005, giving the band its present lineup as it stands today.
In late summer of 2005 Misery Index recorded its first material with the new, finalized lineup, 2 tracks (an early version of "Conquistadores," and a cover of Naplam Death's "Walls of Confinement&quot
for a split 7" with Japanese grinders Bathtub Shitter. Over the winter of 2005/2006, Misery Index wrote the "Discordia" album which was to be recorded subsequently at Hairy Breakfast studio in Atlanta, Georgia, with Daath's Eyal Levi. The record was released in May of 2006 following a full 7 week European tour as direct support for Fear Factory, as well as a May tour with Phobia and Disfear in the US and Canada. Later that summer, Misery Index embarked on the Steers and Beers tour alongside Animosity, Job For a Cowboy, From a Second Story Window, and Cattle Decapitation. Rounding out the year were US/Canadian tours with Intronaut, Fucks the Facts, Yakuza, and Neuraxis, as well filming a video for the track "Conquistadores" which was aired on Headbanger's Ball the following February.
Prior to returning to Europe twice in 2007, Misery Index recorded the "Hang Em High" 7" in Phoenix, Arizona, which became the tour 7" for the Euro run with Origin and Necrophagist. Later that summer, Misery Index returned for festival appearances at Hellfest (FR), Eisenwahn (D) and Tuska (FIN), as well as stops on the Never Say Die! tour with Converge. the band continued its run into Europe with a headlining tour of Eastern Europe that brought the band to far flung places like Turkey, Bulgaria, Ukraine, Romania and Croatia.
In late 2007 and early 2008, the band is deep in writing mode for the next full length on Relapse Records, tentatively due out in Sept of 2008. But until then, the band has recorded 3 blistering new tracks in St. Louis with G. Sprock, for a split release with Switzerland's Mumakill, due out in January on Power It Up Records, Germany.
The Music:
The music of Misery Index combines the most intense elements of metal with a distinct grind approach, added with a touch of hardcore and extreme punk attitude and passion, thus pushing the limits of metal with an insane mix of regressive thrashing rhythms, corrupting breakdowns and energetic ferocity. Misery Index sets no limits in their goal of making metal and grind flow together in boundless punishing assaults designed to modernize the classic death and grind metal of the early 90's, drawing influence from Brutal Truth, Disrupt, Morbid Angel, Napalm Death, Terrorizer, His Hero is Gone, Bolt Thrower, Assuck and Entombed.
The imagery and lyrical concepts are also very critical to the band, and one can expect that in the true nature of the genre, Misery Index will catapult their ideology and anger to the forefront, and shove the sickness and hypocrisy of this planet right back in the face of all who so quietly accept the status quo…and have fun at the same time.





Members:

Current members:

2001- Jason Netherton - bass, vocals
2004- Adam Jarvis - drums
2004- Mark Kloeppel - guitar, vocals
2010- Darin Morris - guitar

Former musicians:

2001-2002 Mike Harrison - guitar
2001-2002 Kevin Talley - drums
2002-2004 Matt Byers - drums
2002-2010 Sparky Voyles - guitar
2003-2004 Bruce Greig - guitar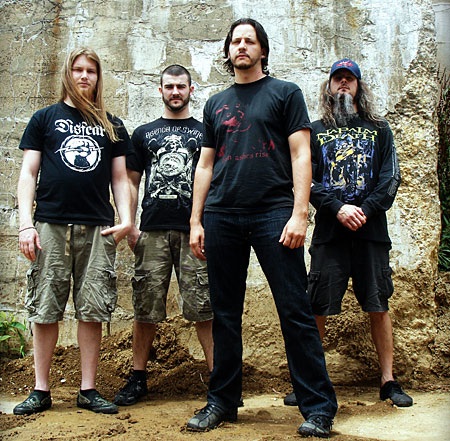 Discography:

2001 - Overthrow - 320 kbps
2002 - Created To Kill (Split with Drowning, Brodequin, Aborted) - 320 kbps
2002 - Misery Index+Commit Suicide (Split) - 320 kbps
2003 - Misery Index+Structure Of Lies (Split) - 320 kbps
2003 - Retaliate - 320 kbps
2004 - Dissent [EP] - 320 kbps
2006 - Conquistadores (Split with Bathtub Shitter) (vinyl) - VBR 238 kbps
2006 - Discordia - 320 kbps
2007 - Hang Em High [EP] (vinyl) - VBR 250 kbps
2007 - Ruling Class Cancelled (Split with Mumakil) - 320 kbps
2008 - Dead Sam Walking (Compilation) - OGG Vorbis, 320 kbps
2008 - Traitors - 320 kbps
2010 - Pulling Out The Nails (Compilation) - 320 kbps
2010 - Heirs To Thievery - 320 kbps
Death
Grind Death metal
320 k
990.27 MB
224 files
11/09/2011
Seed(s): 5, Leecher(s): 4 = 9 Peer(s)
21/10/2014 07:51:12
Back