Referrals
Irc Channel info
Come Join Us
Friends of RockBox

br>

br>

br>
br>
br>
br>
br>
Torrent's details
Nachtblut - Dogma (2012)
Nachtblut - Dogma (2012)
171f258d238c82d68c81989ca92947867c9b0934
Nachtblut

The beginnings of the band date back to 2005, when Askeroth started Nachtblut as a solo project. He soon found like-minded musicians who shared his visions and ideas. Thus, Nachtblut evolved into a real band. The line-up comprised Greif, Sacerdos, Skoll, and Lymania.

The band played their first concert in early 2007, which helped them achieve a great following outside their native Onasbrück. They continued to perform live and soon released their debut "Das erste Abendmahl" in June 2007. This collection of songs turned mere fans into disciples of the band. All over Germany, the dark scene could no longer turn a blind eye to the grim sounds of Nachtblut.

In the winter of 2007, the band opened up for the likes of Eisregen, Immortal, Sodom, Watain, Varg, and Endstille, to name but a few, helping Nachtblut become a major player in the underground scene. From its very beginnings, they were either met with love or hate. This polarization is due to Nachtblut's attitude. While other bands will say something to provoke, Nachtblut provokes in order to make a point and draw the listener's attention to a particular topic.

The concept album "Antik" was released in January 2009. The band was in charge of the recording and production at Trollheim Studio with the help of Ingo Hampf. With this release, the band was able to continue its path toward success, as more and more worshippers became part of the Nachtblut legion.

In 2011, Nachtblut signed a worldwide recording deal with the Austrian label Napalm Records.





Members:

Current members:

2005- Askeroth - vocals
2005- Sacerdos - bass
2005- Greif - guitar
2005- Skoll - drums
2006- Lymania - keyboards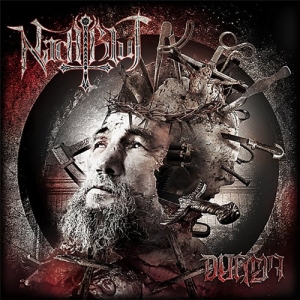 Nachtblut - Dogma (2012)

Tracklist

01. Dogma
02. Der Weg Ist Das Ziel
03. Ich Trinke Blut
04. Eiskönigin
05. Rache
06. Mein Herz In Ihren Händen
07. Mordlust
08. Macht
09. Busssakrament
10. Vulva
11. Schritte

mp3@CBR 192kbps
Black
Melodic Black Metal
192 k
74.41 MB
11 files
25/05/2012
Seed(s): 6, Leecher(s): 0 = 6 Peer(s)
20/05/2013 17:33:32
Back
Support RockBox
Use an ad blocker?

Please think about whitelisting RockBox and helping us by having the 3 ads we have show.


Online Users
| | |
| --- | --- |
| Registerd Users: | 53 |
| RIP's: | 2 |
| Guest's | 347 |