Referrals
Irc Channel info
Come Join Us
Torrent's details
Battlecross - 2010 - Push Pull Destroy
Battlecross - 2010 - Push Pull Destroy
3f2af105504bbc68df55b94c7d904774a8cf6cfd



Natives of Detroit, Michigan, Battlecross has had the privilege to share the stage with the most incredible bands such as Overkill, Gwar, The Absence, Dying Fetus, Woe of Tyrants, Vader, The Faceless, Vital Remains, Paul Dianno, and Mushroomhead.

The band began recording their first full-length album "Push Pull Destroy", recorded and co-produced by Josh Schroeder, in June, 2009 at Random Awesome Recording Studio in Bay City, Michigan.

With their explosive debut which was released recenlty, Battlecross fills the void in today's metal world. Forget the cliche breakdowns, droning undertones, or bizarre live gimmicks. Battlecross is the metal band for the old and new. Combining all elements of metal from death, tech, and thrash, not set by boundaries or fitting to the latest mold.

From the opening track, "Push Pull Destroy" bursts with intensity, draws you in and doesn't let up. From the furious guitar and drum work in "Deception" to the more refined and fist-pumping excitement of "Misery" the album is a combination of unlimited raw ability and unbridled, but focused, energy. If you like bands like Pantera, Metallica, Slayer, Testament, Megadeth, Lamb of God or Arch Enemy than go ahead and add Battlecross to that list.





Line-up:

Kyle "Gumby" Gunther - Vocals
Hiran Deraniyagale - Guitar
Tony Asta - Guitar
Don Slater- Bass
Mike Kreger - Drums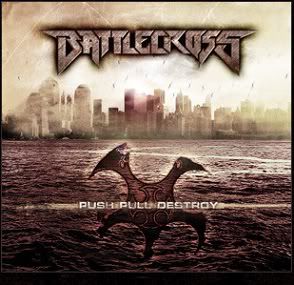 Tracklist:

1. Pursuit of Honor
2. Push Pull Destroy
3. Aiden
4. Deception
5. Man Of Stone
6. Breaking You
7. Rupture
8. Leech
9. Better Off Dead
10. Misery



Enjoy and seed!
http://www.myspace.com/battlecross
Thrash
Thrash Metal / Melodic Death
Vbr
69.53 MB
10 files
01/09/2010
Seed(s): 8, Leecher(s): 0 = 8 Peer(s)
12/12/2013 20:14:41
Back
Support RockBox
Use an ad blocker?

Please think about whitelisting RockBox and helping us by having the 3 ads we have show.


Online Users
| | |
| --- | --- |
| Registerd Users: | 24 |
| RIP's: | 1 |
| Guest's | 217 |